Long time readers of this blog (hi mum) will know that I tend to post travel blogs after big(ish) trips. Well, between October 2015 and March 2016 I took a sabbatical from work and traveled around the world. Obviously, this calls for quite the travel blog. As per normal, this blog was produced by copying my travel diary entries, editing for spelling/grammar and adding photos. Given the length of the trip, I'll be splitting it up into 3 parts. Let's get started shall we?
Day 0 (Mon Oct 5, Week 1)
Last bit of clearing in the morning. Handover of deposit then walk to storage during which my box disintegrates in the heavy rain. Shower to warm up after rain. Last lunch and breaking up the chair before leaving. Brief sadness. Bus arrives on time but bus terminal at Heathrow is labyrinthine. Check-in uncovers that I need an outbound flight or may face problems in Bangkok. I try to buy a cheap flight from BKK to KL but stress air-side as 2 airlines fail to complete and the 3rd only finishes moments before boarding. Finally calm in the plane. Wine and Jurassic World are a nice aperitif to the day.
Day 1
Wake flying near Mosul and watch Gone Girl over breakfast. Muscat is humid and everyone appears to be in a coughing competition. On the next flight, after a short sleep I watch National Lampoon's Vocation then read. Train from airport then taxi to hostel (NapPark). Shower and recharge then downstairs for drinking. Extensive chats then out to a bar then club. Return drunk and meet another British Steve. Sleep.
Day 2
Wake slowly and rise at 9. Emails then head off to buy train tickets. Get to end of road then realise I've forgotten my passport. Return then long walk to station via some temples. Get Bangkok to Butterworth ticket and have Thai omelet for lunch/breakfast. The waiter is very flirtatious. Heavy rain forces me to stay in the cafe for a while, then walked through the light rain to a boat and back to the hostel. Shower then nap. Meet Hannah and Lewis from the dorm then start drinking with them at 6ish and continue till 2am with brief interlude for fried cricket. Canadian Hannah and Lewis from Taunton are both in the first days of their respective first backpacking adventures. Walk down Khao San road is intense so we go to a quiet bar on an adjacent street. Great conversation at bar with an angry statue and rats in it. Hannah rapidly regrets telling us about her pastimes. Run into more rats on the trip back.
Day 3
Wake slowly. Leave with Lewis and Hannah around midday and head to The Grand Palace. See many Buddhas and a long mural. Lunch at subway across the street then walking to the reclining Buddha. Lots more statues and Buddahs. Coconut ice cream then boat south to the Ghost Tower. We couldn't get in and had to force our way across the road. Sun sets as we take the boat back. Shower then drinks downstairs for a bit. We compare pets and introduce Hannah to the concept of pigs in blankets. Drinking games have me and Hannah confused when a wizard turns up and stumps us with his magic tricks. We go for a drink, Phad Thai and pool then back to the bar from last night. Ricky the Indian wizard from Delhi joins us (though wants something more exciting) and is insistent that we visit India so plots out a trip for us. Lovely drinks with Bangkok friends until 3am.
Day 4
Wake, shower and pack by 10am. Briefly feel ill but get over it. Goodbyes to Lewis and Hannah then off to take a boat south. Get off a stop early and walk toward the station buying food and water for the trip en route. Lunch of crab curry and rice at a chain restaurant. Head to the station and get on the train an hour early. Cold to begin with but warms up a bit. Snack and read for a while then nap after the second stop. Ticket isn't checked until an hour in as we roll through slums. For some reason I am given 20 baht upon ticket check. By 5pm we're rolling through jungle. As the light fades we pass rows of lilies backed by palm trees and wide green fields alongside the track. After sunset, the beds are set up and I move up top for food and reading.
Day 5
Wake and wash. Head to lower berth and watch planted forests, greenery and pools roll by around 7:30, shortly after, the berths are converted back to seats. Podcasts, reading and watching the world go by until a stop at Hat Yai for an engine change at 8:50. Ducks washing in a pool at 10:00. Cross the border at Perlis where the time jumps forward to 11:10. Over the border the landscape quickly becomes lush and amplified. The hills are stunning. By 12:20 the hills have receded to the background and paddies dominate the land. Arrive in Butterworth around 14:20. Buy ticket to KL then head for ferry. Told off for walking on the wrong side of an empty walkway. Board ferry and see Penang. Ridiculously humid/foggy. Shower and wash clothes at hostel then Danish roommate at tells me that wood fires are responsible for the 'fog'. I head to a random restaurant, enter through the kitchen and walk through another restaurant before sitting down. Delicious curry. I get a yogurt and mango at a cafe and chat with a Brit ex-pat from KL. Back at hostel I meet Palestinian roommate Abdullah and grab a coffee with him. He talks about his trip to Royal Garden and monkey beach then we head to red garden where we eat and he teaches some Arabic.
Day 6
Air con is cold at night so I wake and turn it off. Wake late (10:00) due to darkness in room. Simple breakfast and coffee with Abdullah and the French Marine and Swiss Esther from last night. Goodbyes to Abdul and we head off to Royal Garden on the 101 bus. At the end, book a return boat and head off to Monkey Beach. At first the jungle is cool, but then we get into rougher terrain and start sweating like never before. In the deep jungle we can hear a prayer call start. Surreal and beautiful. On a halfway beach we see a large lizard. At monkey island there is a distinct lack of monkeys. After a refreshing swim we have lunch and coconut milk. I have fun in a hammock then we chill, talk and swim a while. Esther says that home can be anywhere you set your mind to. At 17:00 when the food places shut, the monkeys come out in force and we grab some photos. We play with 2 baby monkeys then take a boat back with 2 polish girls. After a rickety pier we join a calisthenics group then bus back with other backpackers. Skype, shower and head out with Esther and Marine for a last dinner in Penang. Curry is good and conversation is better. Return, wash/dry clothes in laundromat then return and sleep.
Day 7 (Mon Oct 12, Week 2)
Up at 9:30. Breakfast, then packing and quick trip to buy food. Shower then food at a random canteen style place around the corner then chilling in Mug Shot for a while before heading off to get cash and catch the ferry via Chinatown. Read in waiting room for a while then watch James Cameron's diving film for a bit. Train is nicely air-conditioned so read for a few hours. Chat with Malaysian before disembarking. Buy Singapore tickets in the station where the air con is excellent, I hope this is a sign of how cool KL will be. It is not. I take the light rail to hostel, shower, check out the bar and crash.
Day 8
Wake at 8ish, organise meeting with Graham later, then nap until 10. Wash and set off walking towards KL tower. Breakfast of Nasi Lemak with fish in a mall, then off again to climb KL tower. Aquarium first, then observation deck. Very hazy but great binoculars. Slow walk to the Petronas towers. Very western inside. Wander then lunch of spicy rice and shake. Explore park, tea then searching for public transport around the towers. Further wandering and philosophical musings while waiting for Graham. Meet Graham and head to food via his place. Nice apartment. Great Chinese street food (chicken, manta-ray and mee foo) then many drinks at a bar. Chat about KSP, space and books before heading home. Heavy rain on last stretch. I have 20c to my name.
Day 9
Up by 9:30. Walk toward bird sanctuary on Graham's suggestion. Past the old KL station, I walk past a colourful Muslim procession and visit the Muslim Museum for a while. Interviewed by students. Wander up to bird sanctuary and spend a few hours pestering birds in Jurassic park like surroundings. Back to KLCC to get lunch just in time to avoid hypo. Shopping for train food then back to hostel for shower, nap and free food before meeting Graham again. We meet at KLCC again then head to a open-air rooftop/helipad bar with excellent skyline views. Down to ground level for a lot of Chinese food and a bubble tea before sauntering back to KLCC for selfies and goodbyes. Back to hostel then crashing.
Day 10
Wake, shower, pack and head out for baked rice flour from yesterday. Clear up, check out and head to KL Sentral. Overspend on lunch and get out 10RM at an ATM. Train leaves on time a I have a comfortable window seat with loads of leg room. Rat Race is playing. On a loop. Someone joins at ~15:30. Every time the train slows, the guard opens the door to check for hangers on. I have now seen Rat Race 4 times. As Rat Race starts a 5th time, my seat friend with BO leaves at Kluang. As we pull into Kempas Baru around 8 the industrial buildings lit by orange bulbs look just like home. 15 min stay at KB then onto JB Sentral. Buy shuttle tickets and kill time. Reflect on how far I've come so far. Easy Malaysian passport check, then on the train to Singapore. China History Podcast says "…if you're ever in Singapore…" as we cross the bridge. Forms and questions at the Singapore side. Jump on a bus to the Woodlands MRT. I think the E in the bus's route stands for 'extended'. Stressful time buying tickets at the MRT but eventually find myself on a train to 'Dhoby Ghaut'. More westerners as I approach the waterfront. Eventually find the hostel. Pretty low key. Shower then sleep.
Day 11
Roommates up early. I get up around 9 then check-in and breakfast. Shower then wander towards the Marina. Banks seem big on advertising here. Lots of people by the Merlion. I head around to the bay and wall through a shopping mall. Ridiculously affluent. I feel out of place flip-flops and shorts. Stop for lunch then explore the garden/supertrees. Back via shopping centre to art-science museum. Underwhelming healing exhibition but great Waters of the Yangtze and The Deep exhibitions. Circuitous wander back, Skype then out for Nasi Goreng and Ice Milo. Walk back to the supertree grove just in time for the garden rhapsody. Wander back along the waterfront and stop to watch the the da:ns festival. Showed upon return and listen to one armed hostel receptionist singing along to Eminem's Lose Yourself.
Day 12
Wake early, breakfast then out by 9:30 and and at Harbour Front MRT by 10. Start the Marang Trail uphill and pass by the cable car and search around for the Henderson Waves. Eventually find it after passing by a nice historical monument. Walk along the hilltops for a while then along the impressive elevated Forest Walk. Next along the Alexandra Arch. Almost get turned around in the HortPark but find my way to the hill. At the top I visit an excellent museum about the Battle of Pasir Panjang/Bukit Chandu. Short canopy walk then wander down the hill. Get lost on way down, wandering through up-market neighborhood bit find MRT station and hop to Harbour Front to grab food just ahead of hypo. MRT to Chinatown, wander, find tacky temple with built-in shop. Back to the hostel for a quick shower then walk to Little India. Food and Lassi in a massive market then wandering around sweet smelling markets for a bit before heading back to hostel via MRT. Wash clothes then head out for a wander to the marina. Sit and watch the world go by for a bit, then light show and return.
Day 13
Slow morning. Shower, breakfast and charge before heading to the National Museum of Singapore. Great tour followed by listening to a beautiful speech by Prime Minister Lee Kuan Yew on separation from Malaysia. Leave museum at 16:00 and head back to Clarke Quay to join a boat tour. Underwhelming. Nasi Goreng near the hostel then packed train to the airport. Very quick baggage check. Long wait at Changi during which I eat too much. Check in just as flight is 're-timed'. Play in play area for a bit then read for a few hours while waiting. Discombobulated when queuing as we have luggage re-checked and I had already reconfigured. Calm then boarding at 04:50. Screaming children quiet shortly before takeoff. I have an exit row to myself. Jackpot.
Day 14 (Mon Oct 19, Week 3)
Wake in the air over Indonesia. Crick in neck but comfortable as we descend to Bali. Leave plane and head to transit area. Baggage re-checked and water confiscated. Because it was too dangerous to have on the plane I just had it on. Front row aisle seat this time. Lots of reading. Nap as we descend. Easy immigration. Shuttle to T3 then bus to city. Perth seems a lot like America. Head to Museum of Western Australia and peruse entertaining taxidermy. Kookaburras gonna Kookabarr. Wander through commercial district then to Cath's office. Brief tour of office, mini-London, then on the bus to Kings Park. Lovely view and serene walk as we catch up. Bus to supermarket, train to house. Shower, food then off to airport to meet Dan. Catch up and chat for a while about mining then sleep.
Day 15
Comfortable sleep. Chat over breakfast then drive south to Cottesloe to check out the beach. Continue south to Freemantle where we explore 'alt-Perth' drop by the museum and along the waterfront to have fish and chips for lunch, followed by ice cream. Drive back to house, test pool water and head out to buy BBQ food. Spend a while cleaning the pool, which I find entertaining then swim. Cider and floating follow. Cath returns and we BBQ, TV, chat and sleep.
Day 16
Breakfast then car to Yanchep National Park to see koalas and roos. Ice cream and chat then drive to a lagoon for a short walk. Stop for burritos and tacos on the way back and take them home. Lunch, shower and washing before lazing around for a bit. Pick up Cath then food for dinner. Lovely risotto as we reminisce in the back garden. Head out for ice cream and to catch the sunset on the Indian ocean. Final chat before heading off to the airport and goodbyes. Easy check-in and swift boarding. Watch a little bit of Jupiter Ascending before a light sleep.
Day 17
Wake to sunrise over clouds. Descent into a rainy Sydney and 5 minutes to exit building. Lovely damp and overcast weather outside. Down to train, recon hostel then up to parent's hotel. Slip upstairs to sunrise them and head off walking towards to bridge. Gawk at cruise ship then head under the bridge towards the observatory. Chat with guard about bridge climbers. Find the observatory is just a patch of grass with a nice view. Head south for a light lunch. Walk back towards the opera house and then onto the gardens. Back to respective accommodations for a nap and shower. Back out for sushi then hot chocolate. Walk back via train station. Goodbyes. Sleep.
Day 18
Wake slowly. Clean and chat with roommates for a while. One has just come from NZ/KiwiBus and recommends things. Head out for a slow wander North. Apparently I'm staying round the corner from MongoDB offices. Greasy breakfast then on to Anzac war memorial. Well done exhibit. Walk though shady park and get lost looking for Art Museum. Find eventually. Nice classic and contemporary collections. Head to botanical gardens for lunch then over to the point for pictures and walk back. Quick clean then out to meet Claire. We head to Strawberry Hill hotel for drinks and chatting. Eventually head to Scary Canary to meet her ex roommates. Drinks and dancing ensues in a shit club. Long goodbyes and ringing ears at the end.
Day 19
Wake early. Alarm goes off in a locker and we struggle for 30 mins to get the phone out. Team building. Fullerton guy leaves with giant rucksack. Breakfast of hot chocolate and brownie had in Prince Alfred Park. Chill back at hostel for a bit before heading out to meet Alice. Excitable. We hop on a train to Newtown and explore a park off to the side, then a sex shop, record shop and hipster tack shop as we double back for a great Vietnamese restaurant. Beef pho and Vietnamese tea for lunch. Double back again for excellent gelato. We observe nitrogen ice cream being made then wander across Newtown chatting for a while. Train back to central then wander around Sully Hills and back to Bounce to meet Luke. Goodbyes to Alice and off to Yulias with Luke. We miss the restaurant several times but find it eventually. Great conversation over interesting food. Gelato for desert then drink at a Mexican bar down the road as we talk about books. Goodbyes, then back to the hostel and chat with new German roommate about NZ for a bit.
Day 20
Wake slowly and pack. Internet for a bit then check out and walk north to the harbour. Grab a round trip ferry to Manley and back. Walk back to central, picking up Vietnamese street food en route. Check WiFi at hostel then train to airport. $2 more than expected. Chill at the gate for a while before boarding. Aisle seat and decent single serving friends. Red horizon as we descend to Christchurch. Darkness at landing. Quick exit from airport and chat with helpful bus driver for directions to hostel. 8 min wait in bus until departure. It doesn't seem like Middle Earth yet. Quiet walk in the dark to the hostel. It's cold. Lovely. French roommate is on a string of working visas. Living my dream.
Day 21 (Mon Oct 26, Week 4)
New roomates arrive during the night. Wake at 9, breakfast of GF panini by 10:00. Back to hostel briefly to chat with desk guy, then off to the museum for a while. Botanical gardens around 13:00. Town is quiet due to Labour day. Explore town for a while then tiki taco salad for lunch. Shipping containers are an attractive adaption to earthquake damage. Wander south to a shopping centre to get froyo then food for tomorrow. Back at hostel French is back and I go to wash clothes. While drying, I head back to shopping centre for dinner food and return to cook. Reading and Friends over dinner. Shower and return to a dorm full of Germans. Sleep.
Day 22
Up early. Leave quietly and sit in Rob Harris until bus arrives. After leaving Christchurch the landscape is flat farmland, occasional rivers and cold grey skies. Stop at 8:45 for orientation in spattering rain. Green hills and low cloud follows. Then closer hills and mist. Breakfast stop then bigger hills and a sudden turn to a rocky coastline. As we stop for cash at Kaikoura I find out the Montreal Yan in front is an ex-IBMer. Drop stuff at shitty hostel then head out for Fish & Chips with Peruvian. Bus to see seals (most people go because other activities have been canceled). Spend a while with seals then long walk back. Find a seal half way up a hill. Meet up with the 3 girls from earlier. Chat with Rachel about travel for most of the trip. Back at the hostel we watch American Psycho in the TV room. Fish and chips with Rachel, Karen and co. Short beach walk, shower, charge then sleep.
Day 23
Wake, wash then the snow covered mountains take my breath away. Head immediately out for a walk along the beach. Doritos and tea for breakfast then on the bus to pick up dolphin people. Viewpoint above Kaikoura then away North. Quick stop at Ohau seal colony then inland to a small waterfall with seals playing. Food stop at Flaxbourne then north through green hills and picking someone up at Blenheim. Driving through misty marshes until Picton where we say goodbye to Rachel and welcome a lot of backpackers fresh from North Island. A clique sits near me and starts discussing last night's events. After debating the choices, we sign up for kayaking tomorrow. We rapidly pull over. "Guys, just so you know, you can tell me if you're feeling ill. Ideally not 2 seconds before you throw up on the dashboard, the clipboards and me." Washing ensues. At 14:30 we stop at Pelorus bridge where the Hobbit barrel scene was filmed. Heavy rain. Back on the road and through misty, heavily forested hillsides for a while. In Nelson at 15:45 we rapidly pull over again. "Here we go again". We carry on to Richmond after dropping some people off. "We're switching buses soon, so if anyone wants to shit on a seat, now's your time". Experience Pak'n'Save then onto new bus. Drive through mudflats before Kaiteriteri. Check in, walk along the beach with Yan, Karen, Lewis, Stacy and Smith the Dutch dude. Food then pool, drinks and games.
Day 24
Wake early to a cacophony of snoring. Quick shower the down to breakfast with Yan and Lewis. On the bus to kayaks. Quick gear orientation then into the water with Sandra. Fantastic few hours on the water then back, quick change and onto the bus. Discover our food is trapped at the back of the luggage compartment. Shop stop at Tapwera where me, Yan and Lewis get our food out from the bottom of the bus. Drive to Newton lakes. Beautiful. Lunch and photos. Yan helps wrestle an eel, which we later find out is an arrestable offense. Bus speed dating. Continue through the wold until dropped off for horse riding. I get Roy. Roy wants to eat everything and is generally a dick. Chilly at the end but beautiful scenery. Brought back just in time to check in and head out for dinner. Great hot rock beef as we chat with Jared. Head to Black and White bar after. Sleepy dog. Head out back with Russ and the locals to smoke. Purple shirt tells me how he lived in the UK illegally as a DJ for 3 years. Russ does a quote supercut which is fantastic. The room seems bigger as he does De Niro from Taxi Driver. Girl has some stolen hot sauce and is trying to do shots of the stuff. Somehow I am licking hot sauce off fingers. Rejoin bus folks. Local tries to impress woman with local knowledge. Jared tells of how "poor life decisions" mean he is no longer a pilot.
Day 25
Wake suddenly to alarm. Shower and breakfast then off to coastal walk. Riddles from Yan and crashing waves. Forms and beautiful coastal road as we head south. Stop at pancake rocks followed by pancakes. More forms en route to Greymouth. Pick up Halloween costumes, cash and food then off again. Orientation at the Mahinapua then spend an hour cutting wool for Yan's costume (a unicorn rider). Walk to the lake with Stacey then to the sea with Stacey, Lewis and Karen. Beautiful, but sunset is a long time away so we head back in time for food. Chat with Maggie and a Canadian over dinner. Costume changes then dorm 12 rocks to the bar. Drinks. Wine. Pool with people on shoulders. Smith is quite naked.
Day 26
Wake to Yan's alarm. Shower, pack and head to breakfast. Talk about last night over bacon and waffles. "Smith, you write (on the booking sheets) like a spaz, just call and tell them what you want". Pool then leave. Drive through Ross which apparently has an ex-Soviet tank. Food, WiFi and Facebook stop then on to Franz Josef. Chat with Yan about IBM and riddles en route. Quick tour of Franz Josef then sort out glacier tours and group check in. Off for a wander around town. We check out the Landing, souvenir shop then grab a quick bite at Donut Day. Hot tub back at the hostel. We try to explain what a bell-end is to Smith and fail. Washing, flight booking and brief walk before heading out for food. Lamb shank and wine with everyone. Yan joint wins costume contest but loses at rock paper scissors. Chicken Olympics, Love Juice, rummy, and pool. Guys vs girls and we lose badly. Crawl under the pool table then head back.
Day 27
Wake entirely too early. Lewis up first then quick dress by everyone and off to the Landing to watch the rugby final. At 4:35 the bar is already packed. Girls arrive at 4:45. Breakfast at kickoff. NZ pulls ahead in the last minutes of first half. Tense end as the bar erupts. Wander blinking into the light and back the hostel (sans Smith, who has gone missing). Brief rest then off to the heliport. Risk of cancellation due to weather but we suit up anyway. Walk to pad and take short but incredible chopper ride to glacier. Crampon up then start a great walk around the glacier. Water is crystal clear and tasty. Weather changes rapidly. Eventually we take a longer ride down and buzz some goats. Nachos at the Landing then hot pools for a few hours. Back at room I recharge then head out on rainforest walk. Boring start but then twisting tracks up a hill to an abandoned mine shaft. Go in a little way but darkness and water prevent further exploration. Back to branch in track then head the other way. Nothing much until I find a box of explosives. Blank orange warning sign does not deter further exploration. Pretty forest trail, but have to turn back at 5:40 to beat the darkness home. Nachos for dinner as pizza fest starts. I am Lewis's official photographer as he attempts to break pizza records. Camaraderie as Lewis reaches 29 slices. Celebration, whiskey and massages. Pop out to photo the Red Bus for Tom then shower back at room. Sleep.
Day 28 (Mon Nov 2, Week 5)
Get up first and wash. False fire alarm wakes everyone else up. Board bus in a fine rain and head off to Lake Matheson. Rainy walk around the Lake with Yan, Lewis and Emma then chill in café. Clipboards for bungee and canyon swings on next bus drive. Lookout stop then onwards to Haast. Chips and riddles for lunch. Beautiful scenery as we enter the Southern Alps. Photo stop at Thunder Creek Falls. Haast Pass followed by brilliant blue Lake Wanaka. Windy photo stop at Lake Hawea then onto Wanaka. Drop bags at Base Hostel then out to look at the lake. I then book a morning skydive and return for touch rugby. Split off with other group for a quick drink and chat. Head back to shower and chill with Stacey for a bit before meeting the others at Water Bar. Killer pool and lamb for dinner. Back at hostel, we play rummy for a bit and massage before turning in early.
Day 29
Wake at 5:30 with Lewis, get prepared, then find out skydiving is canceled due to weather. We head out to catch the red sunrise over lake Wanaka, then back to the hostel for a sleep. Refunds and checkout before walking to the bus. It's raining, so we can see why they canceled the skydive. Short drive to Puzzleland. Despite initial misgivings, maze is very fun. Complete with Yan and have just enough time to check out the illusions. Lewis is defeated. Short drive to fruit ice cream then off the K Bridge bungee. Booking kerfuffle, but we get it done and I chat with Maggie until we leave. "Get the fuck off my bus, Lewis". "Shut your whore mouth, Claire". Frantic check in. In room with Yan and the Irish. We all head out but me and Yan grab a Ferg Burger while the others head off the meet Lewis and Friend. Giant, delicious burger as we walk up the hill. More difficult than expected, but fun. Meet Sandra, Marine and Stacey at the top. Turns out we can't just hop on the gondola down. Jared lied to us. Me and Yan walk down out of belligerence and fuck with hikers on the way down. Shower upon return. Girls rush to get ready but we make it to Red Rock on time. Mingle then tequila slammers and dinner. Lewis' friend buys lots of drinks. Head to locos. More drinks and selfies. In world's we drink and dance. Lewis gets with Emma and Karen isn't happy. Jared gets into a fight with a bouncer. Head back with Stacey.
Day 30
Wake up thirsty. Quick wash and nap, then out to ask about skydiving with Stacey then onto the Milford bus. Pickups then stunning lakes and mountains. Flatter scenery allows for naps afterwards. Quick breakfast stop at Te Anau. Commentary then entering the Milford road. Numerous photo stops in fantastic surroundings. This is the most beautiful place I've ever seen. Driver plays Mission Impossible as we enter the tunnel and Jurassic park as we leave. Keas fuck around on the other side. One guy films a LOTR monologue "Gondor calls for aid… And Rohan answers" dramatic sweep Stop at the Chasm then onto ferry. Board quickly and enjoy the most beautiful ride of my life. Much chatting and gazing. Sleep for most of return journey. Stuffed potato back at Te Anau. Superbad on the way back. Beautiful yellow sky behind mountains as we return to Queenstown. Quick break then out to Fergburger then Searle Lane for drinks and pool. Back early-ish then sleep.
Day 31
Wake easily. Quick wash then off for breakfast of cake and trying to book skydiving with Stacey. Off to bungy check-in with everyone. Comfortable seats then off on a bus. Drop people at K Bridge then climb further to Nevis. Off to bungy first. I'm second to last and have a great jump. Seconds before jump are tense. Slightly hurt my forearm on first bounce, but no worries. Onto canyon swing and I'm up second. Fake countdown before drop. Giddy for remaining jumps as guide fucks with everyone in different ways. Fergburger on return. Frisbee golf followed by cider on the grass by the lake makes a great afternoon. Sandra and Stacey join as we split so me and Yan head to Fergburger with them. Back at the hostel, me and Karen grab some free dinner then head back to the room where drinking ensues. We head out to a strange time-share esque pub crawl. Fun bars. Much clubbing. Late night Fergburgers with Sandra and hostel hijinks.
Day 32
Wake to my alarm and clean. Goodbyes to everyone and wait downstairs with Maggie. Board bus and plenty of no-shows give me window seat to myself. Quiet drive to Cromwell for breakfast of veggie tart. Through the high pass then down stop at a supermarket. "That bus is in my spot. Fascist." Photo stop by lake and Mount Cook then church in Tekapo. Check in to hostel. Have room with Tom, Jo and Maggie. Head off along the lake shore and up along a path. Beautiful mountains across the lake. 2 hours in total and cross Maggie's path just before the viewpoint at the end. See rabbits on the way back. Food, shower and washing before sitting a reading a while. During the shower, the hot water runs out, which is the worst thing ever. 30 min nap then off to the lake for stargazing. 2 shooting stars and 5 satellites.
Day 33
Wake slowly, wash, then have breakfast on the porch overlooking the lake. Onto the bus and drive through low hills and farms until 10:10 when we enter some low cloud/mist. WiFi/toilet stop in Geraldine. Drive through farmland, dropoff at Ashburton then through more farmland to Christchurch. Drop everyone off then onto airport. Auto-check-in then chill until plane arrives. Easy boarding and no security. Mountain views for the short flight. Odd pictures in Icebreaker shop and LOTR statues in Wellington airport. Hop on a shuttle into town and check in. 7th storey. Head out to wander through town. Museum excellent but closes shortly after I arrive. Walk along waterfront and buy food on way back. Cook dinner and read before heading out to catch the Guy Fawkes fireworks at the bay. Pick up food on way back, shower then consider whether or not to see The Martian. As the cinema is where LOTR premiered, I decide yes. Good movie. Return tired.
Day 34
Wake slowly, wash and check out. Walk down street to YHA and see fewer people than expected. Eventually, Kiwi bus arrives and I board along with 4 other people. Driver is Kyle. Sleep for most of the drive to Bulls. Fast and Furious on as we pass through plains to Oasis. Mount Doom pulls into view shortly after. Photo stop then onto skydiving. Putting on contact lenses on a bus is about as difficult as you'd imagine. iPad check-in at Skydive Taupo then onto safety briefing. Tandem partner is Irish Morris. Also jumping with English Danny and Jack (both their girlfriends back out) and Swedish Ellen. Tense climb to altitude. "We're just dropping someone off" as the 12000ft jumper drops away. Rush as we drop. Arms pulled away by wind. Beautiful. Soft landing. Limo back. Israeli roomates. Head to pak'n'save to buy food then return to hostel to eat and chill. Head down to lake front to watch sunset then walk through food district and turn in early.
Day 35 (Mon Nov 9, Week 6)
Wake up entirely too early. Quick wash then gear up and head downstairs for breakfast. 2 others from Urban are going. Board bus, fill in forms and nap as the sun rises. Safety brief then off. Walk with English Sarah, Canadian and Norwegian girls up past devils staircase. Head off into the cloud to climb Mount Doom. Get to the end of the marked track and join with German Hannah and Alex. Proceed up the slope. Easy at first, but rapidly difficult as scree and jagged but unstable rocks predominate. Consider stopping a few times. Joined by a southbound Kiwi group about 2/3 up. Doubts as the scree gets thin and red near the top. This is the most difficult thing I've ever done. Downward climbers give encouragement and we make it to the top. Easy path, volcanic vents and rocky ridge at first summit. Flies and banana peels abound. Onto snowy second summit for photos. Reunite with Hannah and Alex. Hypo so I food up. Difficult start to the descent, but easy from about ¾ up thanks to scree being stompable. Food at base then on with walk. Flat at first then a climb that hurts after Doom. Vertigo inducing red crater then Emerald Lakes with eggy smell. Pick up the pace and pass Blue Lake quickly. Easy walk along the side of a valley, then long winding walk down to a hut. Continue on down to treeline while chatting with the Dutch dude. Along the way my phone restarts and decides it is 4am tomorrow. Everyone sighs with relief upon entering the shade of the trees. Forest goes on way too long, but eventually we make it to the bus where we all pass out from exhaustion. Shower upon return then make food. Short wander around town later then back to chill for a bit. Old guy stares at a couple playing pool. I sleep.
Day 36
Enjoy lie in but wake early. Climb painfully out of bed and wash/breakfast. Chat with roommate for a bit then on her suggestion, head towards hot springs. Walk slowly to springs then carry on most of the way to Hukka Falls. Spend some time in the water at the springs. Crowded, but the heat does my muscles good. Slow walk back via ice cream. Change into jeans and head out for lunch at a noodle place. Back to hostel to shower and book tickets. New Maori roommate. Cook food. Reunite with Canadian girl from Mahinapua. Chill and chat with roommates then sleep.
Day 37
Wake slowly. Wash and pack, then book tickets before having a quiet breakfast and hop on the bus. Have Kev/NancyBoy from Queens->Christ again. Pass geothermal plant and read as we head north. Stop at mud pools then onto Rotorua. Entire town smells of eggs. Wander around lake and briefly to Base, then around geothermal park and back to Eat Streat for Pad Thai and Milkshake. Slow wander back to pick up for Maori experience where I read until picked up. Drive to the village with a southbound Kiwi group driven by Arias Giri. Introductions in which Canadian 'Big Al' is chosen as chief and we sing happy birthday. Stick games at which we suck, then rope weaving. Time to chill as other guests arrive. Grab a drink with Canadian Amber and co. Head to greeting ceremony which goes well. Tour of Maori village and learn about culture. Electric lights in trees as we learn traditional Hakka to a script. Anachronistic. Dances and songs followed by filling meal and more music. Afterwards, we head to the hot tubs to drink and chat. Japanese Nina: "I don't believe in dinosaurs" "What about the KT boundary?" "That's bullshit" Apparently ancient people put them there as a joke. We all struggle not to laugh/argue and carry on drinking. Buy a partially drunk bottle of wine for $20 then marshmallows in the forest then the conversation turns raunchy in the hot tubs at the rain sets in. Chat and drink until 3am then head back with Nina and Chantelle.
Day 38
Woken at 5:00 by returning hot tub people. Sleep again. Wake slowly and make it to breakfast early. Chat about Tongariro crossing then rush to grab stuff from room onto bus. Goodbyes as we split at Rotorua. Quick charge in a common room then off again. Wait outside with skydive people again. Will turns up late with the bus and we head to Rainbow Springs to see a Kiwi hatchery. Nap as we drive on to Matamata for food. Nap most of the way to Auckland. Ponder the scale of the trip as we roll into the city. Auckland seems flat. Chilli's 'Minor Thing' plays and seems poignant as the skytower pulls into view. I feel emotionally drained. Goodbyes and good luck to Will then into hostel. Auckland has nothing like about New Zealand. Head out to find patch kit for shoes and 3 shoe shops disappoint before Dr Shoe delivers with gusto, selling ShoeGoo. Have a disappointing BBQ (1 sausage) at Nomads then head out to get a pizza in the CBD and eat it overlooking the docks. Sky turns dark quickly but I make it back just ahead of the rain. Help out new roommates sort their Kiwi planning then shower, washing, chill and sleep.
Day 39
Wake slowly and say goodbye to new Kiwi intakes before going upstairs for breakfast. Birds in the kitchen. Checkout then wander quayside for a bit before grabbing food. Board bus and sleep for the first hour. Forgetful old lady joins at Manukau and talks about her son living in Wales with "land and horses but no children". Scenery becomes distinctly Welsh as we ride south. Brief stop at Ngetea. Delayed by horses on the road. Scenery is a mix of Wales and small town America compared to the Wales turned to 11 of South Island. Biblical theme as we enter Tauranga: Bethlehem Shores and Judea Industrial Estate. Maori graffiti in central and closed waterfront section. Explore town then chill under a tree for a bit. Further wandering then off the Brew to meet Morag. Pizza and wine with Morag and Paul. Chat about NZ travels and life. Back to their place for more wine and talk until midnight. Sleep.
Day 40
Comfortable sleep. Shower then chat with Paul until Morag rises and we breakfast. Conversation turns to software and IBM. Dropped off by Morag, then quick curry for lunch and onto the bus back to Auckland. Hear about the Paris attacks just before getting on the bus. Read, nap, then read some more. Check back into Nomads then recharge a little before heading out for a burger. Sky Tower is lit up in tricolore for the Paris attacks. Wander through back streets for a while before heading back.
Day 41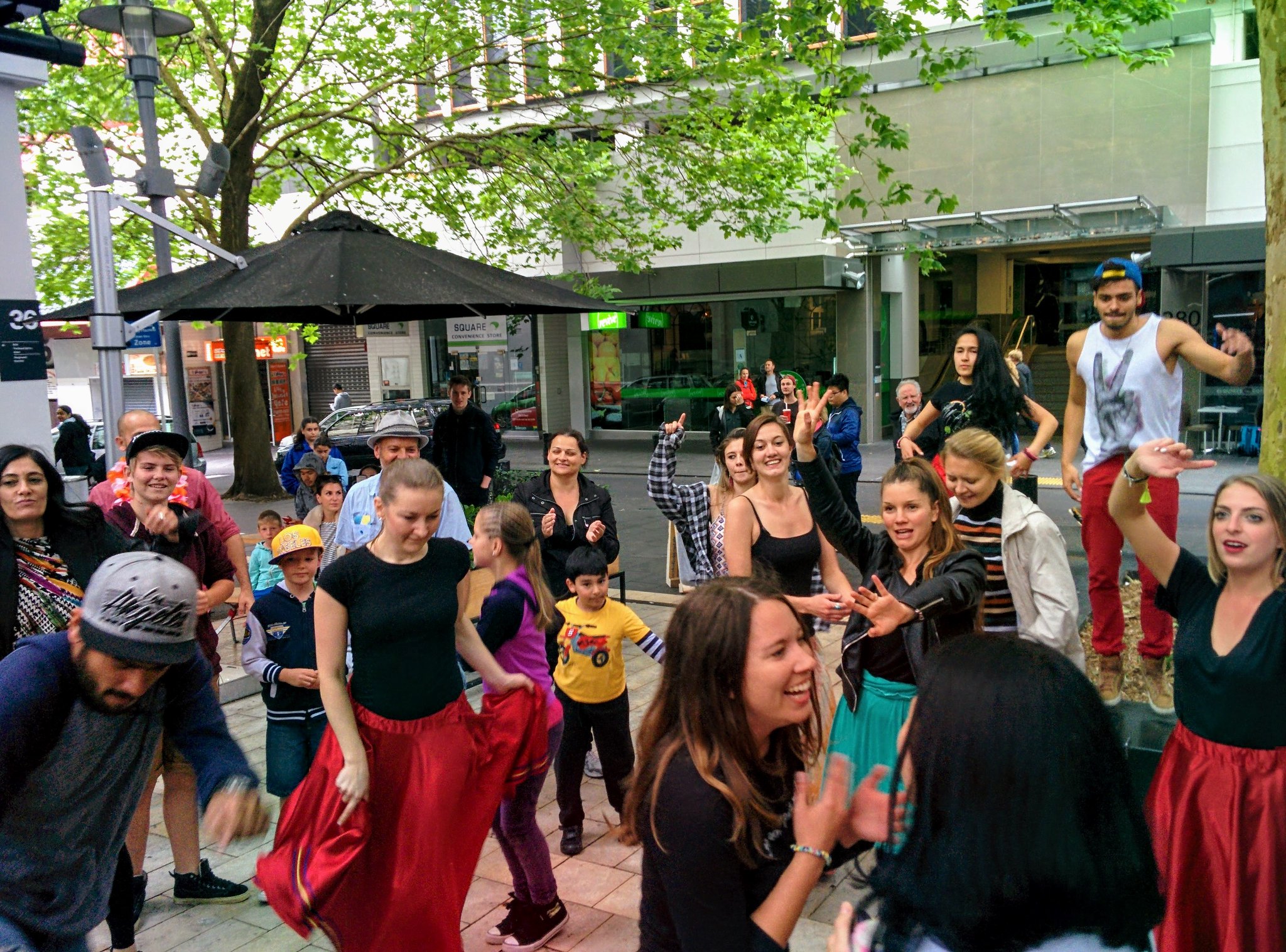 Wake, wash and pack. Read in the common room until checkout time. Read a little more then head off to Albert Park then the Auckland Art Gallery. Later find a street dance mob by Papaya Stories and enjoy for a while until diabetes forces me to a nice Asian restaurant for rice. Return to dance mob to dance until the end. Splashed with water during the climax. "Live life, be happy and follow your dreams". Wander back to the hostel and read a while until meeting with Jess. Chat with friendly drunk outside Nomads before being picked up and driven to a mall where we grab a coffee and chat until Jess's boyfriend joins. Continue chatting about travel and Wales for a while. Back at hostel, I have a quick nap in an attempt to reset my body clock, then chill and wander until 22:00 when I head off to the airport shuttle. Wander along a quiet pier with a glowing building. Reflect on time in NZ. Fantastic, but nothing I love about NZ is in Auckland. Seems almost an ignoble end to the trip. Nap on the shuttle and kill time for a little while before settling down to read until check-in. Late night slow wander around a dead airport listening to Nina Simone. Get turned around at check-in, but make it through security quickly. Recharge until flight. Have an exit window seat and empty next to me. So tired I completely miss takeoff. Drift off to a light sleep high above the Tasman Sea.
Continued in part 2.